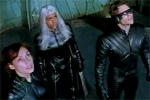 Plot: Based on the comic book series. Outcasts from society, the X-Men are a small band of mutants, so called because each was born with a unique genetic mutation that gives them superhuman powers. As the X-Men have learned to harness their special abilities for the greater good, they have also realised that the human race they fight to protect both rejects and fears their presence. Battling against prejudice and agents of intolerance, the X-Men will either establish a peaceful co-existence between mutants and mankind, or perish..
Now, the team come across a dangerously wild mutant named 'Wolverine' - a creature whose bones have been fused with the world's hardest substance - admantium, making him almost invulnerable. Together they must train the new recruit and assimilate him into their ranks. But is it possible? No-one knows of his origins, and most of his memories are found to be implanted by someone. Will he bring about their downfall?
Worse still, a new mutant appears - Magneto, a powerful being who can control the magnetic and gravitational forces of the Earth and plans to kill of the normal humans for the contempt they have shown his kind. Can he be stopped in time?

Click here to read a review of X-Men
Titan A.E.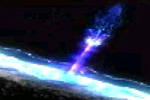 Plot: In a journey that begins after Earth ends, a rebellious teenager named Cale embarks on an adventure through space to find a legendary spacecraft, the Titan, which holds the secret to salvation for the human race. With the deadly Drej aliens close behind and betrayal from within, Cale must become a renegade warrior and a new kind of hero as he completes his mission to find a whole new world.
Click here to read a review of Titan A.E.
The Perfect Storm


Plot: Based on the Sebastian Junger novel of the same name which chronicled this true story. In the Fall of 1991, the six-man crew of the boat Andrea Gail departed from Glocester, Massachusettes and headed for the fishing grounds of the North Atlantic. Two weeks later, an event took place which had never occured in recorded history - a convergence of a thunderstorm and a hurricane to create the most powerful storm in modern history.

Click here to read a review of The Perfect Storm

Gone in 60 Seconds

Plot: Remake of the 1974 heist thriller. A man and his crew must pull off one last heist to steal 100 cars to save his little brother's life who's in debt, trouble is another gang also plans to steal them.

Click here to read a review of Gone in 60 Seconds

The Adventures of Rocky and Bullwinkle
Plot: Film based on the classic animated series. Yes, it's true, those notorious No-Goodniks from Pottsylvania, Boris Badenov and Natasha Fatale are back, and as usual are up to no good. This time they have managed to break the secret code and make the leap from their cartoon existence into the real world. Led by the criminal mastermind Fearless Leader, Boris and Natasha have devised a plot to take over the world - and while they're at it, get rid of moose and squirrel.
Click here to read a review of The Adventures of Rocky and Bullwinkle

The Patriot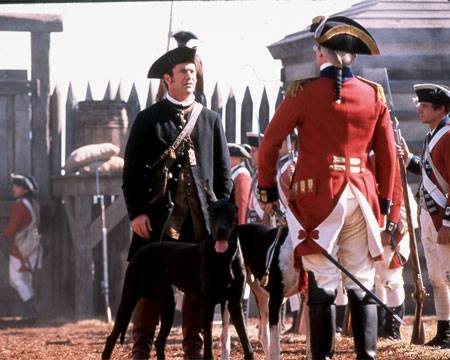 Plot: Set during the American Revolution and from the makers of "Independence Day" and "Godzilla". A hero of the fierce French and Indian conflict, Martin had renounced fighting forever to raise his family in peace. But when the British arrive at his South Carolina home and endanger what he holds most dear, Martin takes up arms alongside his idealistic patriot son, Gabriel (Heath Ledger of 10 Things I Hate About You), and leads a brave rebel Militia into battle against a relentless and overwhelming English army. In the process, he discovers the only way to protect his family is to fight for a young nation's freedom.

Click here to read a review of The Patriot
Nutty Professor II: The Klumps
Plot: Sequel to the 1996 remake of the classic Jerry Lewis comedy. Having done his best to keep Buddy buried in his subconscious, the portly and painfully shy Professor Sherman Klump is horrified to find him resurfacing in untimely outbursts, and threatening his marriage plans to colleague Denise Gains (Jackson). Utilizing Denise's cutting-edge DNA research, Sherman decides to rid himself of his monstrous nemesis - and his disruptive outbursts - once and for all by extracting Buddy's DNA from his system.
But Buddy will not go quietly. He bursts full-bodied into Sherman's world and lays claim to the professor's astounding invention - a revolutionary youth serum. The serum can turn back time temporarily, shave decades off one's appearance and restore vitality, making it a hugely lucrative property that everyone's clamoring for. Desperate to keep it from Buddy, Sherman hides the serum in the Klump family home, thinking it will be safe. But even Cletus "Papa" Klump finds the serum irresistible, and he momentarily revisits the glory - and libido - of his youth. Buddy's instincts lead him to the Klump home, where Denise's bachelorette party is in full swing. Creeping around the house, he is confronted by a lascivious Granny Klump, who believes Buddy to be the man of her erotic dreams. Although delayed by the septuagenarian siren's advances, Buddy finally locates the lucrative "youth juice," and steals away. And so begins a race against time, as Sherman battles to reclaim his formula, restore order to his family, and marry the woman he loves before all hell breaks loose.

*no review for this movie yet!



Plot: A group of chickens make a desperate bid for freedom before they can be fried, filleted or fricasseed. Leading the flock are a British chicken named Ginger and an all-American rooster named Rocky. Together they prove that chickens are anything but, as they engage in a daring and spectacular escape.


SHAFT

Plot: When spoiled college kid Walter Wade kills a young black student, Shaft makes the arrest. Walter skips bail and flees the country, and after two years of waiting, Shaft hauls him back into custody as Walter secretly returns to the States. But when Walter's wealthy father posts bail once again, Walter is back out on the streets and looking to put Shaft in a body bag. So are two of Shaft's corrupt colleagues as well as a Dominican drug lord who wants revenge on Shaft for humiliating him in the neighborhood he rules.


Click here to read a review of Shaft
Me, Myself and Irene
Plot: Hank's got a problem, he's a world-class womaniser, and only one thing stands in his way; his alter ego Charlie. To make matters worse, Charlie's taking medication to suppress the fun-loving, free-spirited Hank. Can Hank save Irene, once again proving that a powerful man is often misunderstood? Or will Charlie rise to the occasion, winning her over with cheap sentimentality, when cheap wine would have worked just as well?.

Click here to read a review of Me, Myself and Irene
Charlie's Angels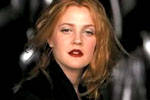 Plot: Based on the hit 70's TV series. Charlie Townsend is a powerful man whom none have seen, and not for lack of trying. Thanks to his anonimity, he's been able to gain much influence and uses it to investigate and apprehend the criminal elements of our society. But that task has become to hard for him to maintain, so for sometime now he's been seeking pupils to act on his behalf - a group of investigative, intelligent and tough investigators fighting the fights which he can no longer do without risking exposure. Now he has made his choice - a trio of young women who have just completed their Police Academy course, and whom are currently assigned to various hazardous duties in the force. The proposition is made to each of them - come work for him, and they all accept. These three women must now stop a criminal mastermind not only intent on stealing millions, but also on assasinating Charlie as well. Can they protect their boss, even though he has never revealed what he looks like to any of them?

*no review for this movie yet!


Scary Movie

Plot: From the makers of "Don't Be a Menace..." comes a spoof of the teen horror genre with send ups of films like: "Scream", "I Know What You Did Last Summer", "Halloween", "The Sixth Sense", "The Blair Witch Project" and even "The Matrix".

Click here to read a review of Scary Movie

Disney's The Kid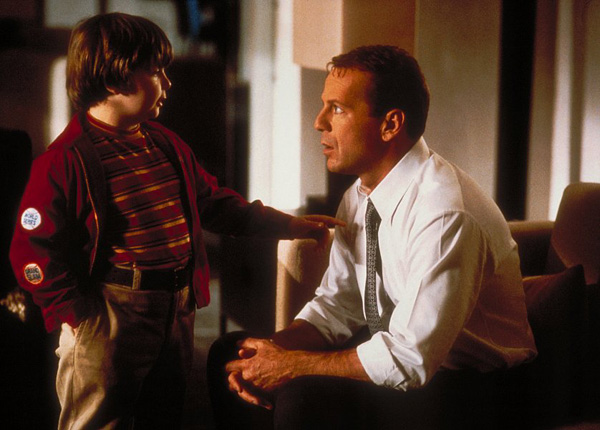 Plot: If you had a chance to meet yourself as an 8 year-old child, would that kid be happy with who you turned out to be? In Russ Duritz's case, the answer is a resonding "NO!", Russ somehow finds his life as a successful "image consultant" turned upside down when he magically meets Rusty - himself as an 8-year-old child. Rusty is a sweet, but slightly geeky, pudgy little kid who is not at all happy with who he turns out to be - a 40-year-old "loser" without a wife or a dog. Ironically, the kid helps Russ to learn about himself and remember his dreams, in order to become the grown-up he wants to be.

Click here to read a review of Disney's The Kid
Bedazzled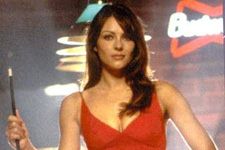 Plot: Remake of the 1970's Dudley Moore movie. A nerdy low-level technical advisor makes a deal with the devil (who happens to be a gorgeous woman) to fulfill his wildest dreams of becoming rich, powerful and sexy. But when that doesn't win him the love of a female co-worker, he again turns to the Devil for the surprising solution.

*no review for this movie yet!